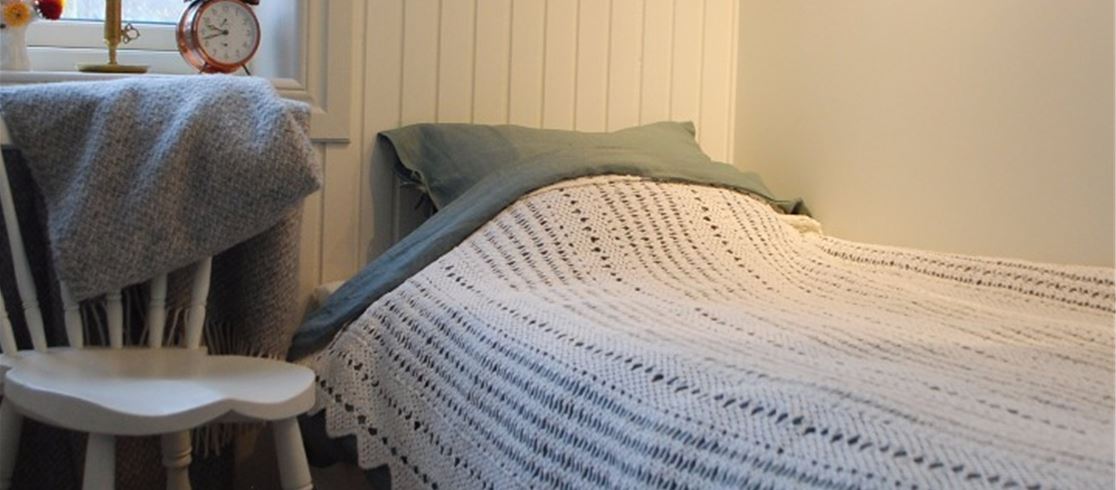 Anfasteröd Gårdsvik
LJUNGSKILE
Close to the sea
Free Wi-Fi
Golf
Food and drink
Conference
Outdoor
Peace and quiet
Resort
Beds made and ready
Fishing
Forest
On a hillside facing the sea and the archipelago
In the middle of Bohuslän on the Swedish west coast, on a hillside facing the sea, you find Anfasteröd Gårdsvik. Live in a cottage with hotel standards and a few steps from swimming, fishing or the campsites own café.
Anfasteröd Gårdsvik is a unique and historic destination for holidays, meetings and nature experiences. The campsite is set among pine and beech trees on a hillside facing the sea and the inner isles of Bohuslän's archipelago. Here you can rent a cottage with hotel standard or bring your own holiday home to one of the seasonal pitches.

The café serves breakfast, coffee and lunch. In the evening, the restaurant opens with a basic but well-cooked menu. The well-regarded restaurants Villa Sjötorp and Musselbaren are within walking distance, and Lyckorna Golf Club is located just a few hundred metres from the campsite.

A wide range of activities
Anfasteröd Gårdsvik offers endless opportunities for activities: kayaks, boats and cycles, to name a few. Discover the inner isles of the archipelago or relax with some mackerel fishing. Crab fishing from the jetty is a popular activity with young children.

In addition to the campsite's own swimming area, there are many others nearby: beaches, unspoilt bays and smooth granite cliffs. There is also a sauna raft for hire.

For landlubbers, there are countless trails through the coniferous and deciduous forests and many small gravel roads that wind their way through the surrounding landscape.

Good location for day trips and adventures
The location of the campsite, in the heart of Bohuslän close to the E6, makes it easy to get to most of Bohuslän's sights. By car, you can reach Smögen in 55 minutes, Nordens Ark in 40 minutes and Skärhamn in 45 minutes, and Gothenburg is 50 minutes by train, bus or car.

The campsite in brief
Anfasteröd Gård has genuine history dating back to before the 14th century. Lyckorna spa was founded here at the end of the 19th century, and the campsite has been here since the 40s. Hanna and Magnus, who run Anfasterröd Gårdsvik, protect the place and its history, and the business is based on long-term and sustainable use of the land, in line with the farm's traditions. The history of the place and those who lived here are a feature of the business.
Facilities
Caravan
Motorhome
Zelt
Cottage
Flat
Luxury caravan
Glamping
Hotel
Pitches 80-100 sq. m
Pitches 100-120 sq. m
Pitches 120- sq. m
Pitches with waste connection
Pitches with water connection
Pitches with electricity
Säsongtomter
Accommodation
Flat
Caravan
Luxury caravan
Pitches with waste connection
Glamping
Pitches with water connection
Hotel
Motorhome
Pitches 80-100 sq. m
Pitches 100-120 sq. m
Pitches 120- sq. m
Säsongtomter
Pitches with electricity
Cottage
Zelt
Service building
Latrine emptying for movable tanks
Dishwasher
Dryer
Family bathroom
Freezer
Fridge
Disabled shower
Meeting rooms
Microwave
Outdoor washing up
Oven
Latrine emptying for fixed tanks
Washing machine
Disabled WC
Service
Freshly baked bread
BBQ places
Breakfast
Boat slip
Café
Café
Entertainment
Company accommodation
Camps and groups
Guest harbour
Kiosk
Conference facilities
Charging point electric cars
Cafeteria
Midsummer celebrations
Dogs are welcome
Pub
Restaurant
Defibrillator
Restaurant with outdoor seating
WiFi
Waste sorting
Activities
Boule
Playground
Bike trail
Dance floor
Birdwatching
Kayak
Angling
Padel
Motionslopp
Swimming
Swimming jetty
Dog swimming
Cliff swimming
Sea swimming
Sauna
Hot tub
Winter swimming
Size
Number of pitches: 230
Number of long term pitches: 200
Number of cabins: 20
Contact
Anfasteröd Gårdsvik
Ljungs Åker 112
459 91, LJUNGSKILE
Open from: 2023-04-01
Open to: 2023-10-31