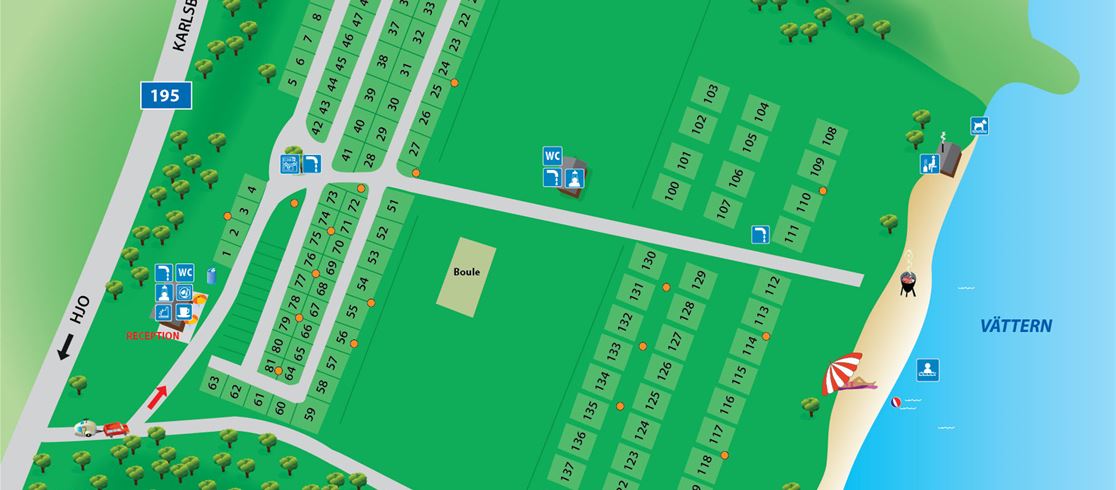 Breviks Camping & Ställplats
Hjo
Free Wi-Fi
Peace and quiet
Sea views
Sun and swimming
By the shore of Lake Vättern - between Hjo and Karlsborg.
Discover the tranquility and nature at Breviks Camping. Situated along Lake Vättern, between Hjo and Karlsborg, the campsite offers lovely pitches close to the lake. Most lakeside pitches are only 70 meters from the shores of Lake Vättern.
Explore Breviks Camping, a place with a stunning lake view from every spot. Here, you'll find camping pitches with and without electricity, as well as pitches along the lake for those who want to wake up close to the water. If you prefer to stay close to the service building, there are also pitches further up in the campsite.
At Breviks Camping, you'll discover a fully equipped service building with showers, toilets, a kitchen, and a dishwashing area. There is also an accessible toilet and shower. Next to the service building, you'll find the reception, a convenience store, and a family room.
Down by the water, a long, beautiful sandy beach stretches out. Dogs are welcome to swim on one part of the beach!
Breviks Camping is an excellent base for hiking adventures. Here, you can explore two lovely hiking trails - one covering 6 km and the other covering 10 km.
Come and find your perfect spot at Breviks Camping!
Facilities
Caravan
Motorhome
Zelt
Pitches 80-100 sq. m
Pitches 100-120 sq. m
Pitches with electricity
Separate pitches for motorhomes
Säsongtomter
Accommodation
Caravan
Separate pitches for motorhomes
Motorhome
Pitches 80-100 sq. m
Pitches 100-120 sq. m
Säsongtomter
Pitches with electricity
Zelt
Service building
Latrine emptying for movable tanks
Dryer
Microwave
Outdoor washing up
Oven
Separate shower cubicles
Washing machine
Service
Freshly baked bread
Kiosk
Dogs are welcome
Convenience shop
Wi-Fi 75-100 per cent coverage
Waste sorting
Swimming
Dog swimming
Lake swimming
Sandy beach
Sauna
Size
Number of pitches: 70
Number of long term pitches: 20
Number of cabins: 0
Contact
Breviks Camping & Ställplats
Vättersvallen Brevik
544 91, Hjo
Open from: 2023-04-14
Open to: 2023-10-01