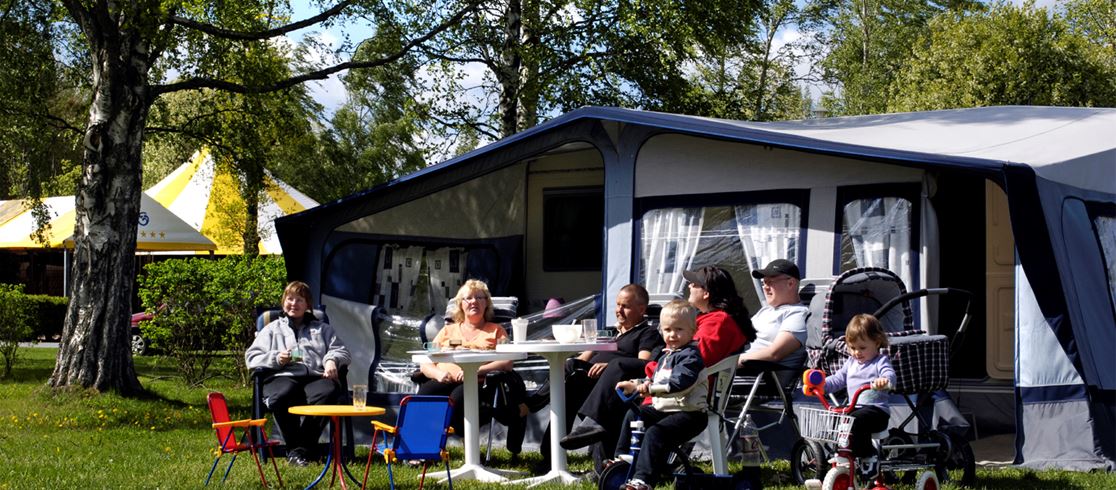 Gustavsvik, Örebro
ÖREBRO
Family
Outdoor
Resort
Water park
A campsite offering high standards of both accommodation and service. Gustavsvik is home to one of Sweden's largest water parks, featuring LOST CITY – a big favourite with children!
A campsite with the very highest standard of accommodation and service. Cable TV with approx 14 channels direct on the pitch or in the cottages. New cottages with eg Internet connection. During the winter period, the cottages can also be hired for weekend and weekly stays.

Adventure golf, playgrounds and game fishing in private fishing lake.

Gustavsvik is one of Europe´s biggest swimming complexes with completely unique adventure swimming, a relaxation area and 50-m indoor pool. Outdoors, there are water slides, pools and a paddling pool. All this makes Gustavsvik an eldorado for all the family. Exercise and outdoor swimming are included in the camping and cottage price. 18-hole golf course nearby.

The center mall offers well-stocked shops, restaurant, fast-food, arcade games and the ability to connect to the internet in our web-room. If you have your own computer, you can connect free to our wifi throughout the camping area. Adjacent to the mall you will also find one of the largest playgrounds in Sweden.

Only 2 km to Örebro centre with lots of shopping, restaurants and entertainment. 5 km to Marieberg's shopping centre, the biggest of its kind in Central Sweden with, among others, IKEA.
Facilities
Caravan
Motorhome
Zelt
Cottage
Disabled-friendly cottages
Pitches 100-120 sq. m
Pitches 120- sq. m
Adapted motorhome pitches
Pitches with water connection
Pitches with electricity
Stellplätze mit TV-Anschluss
Accommodation
Caravan
Pitches with water connection
Motorhome
Pitches 100-120 sq. m
Stellplätze mit TV-Anschluss
Adapted motorhome pitches
Pitches 120- sq. m
Pitches with electricity
Cottage
Zelt
Disabled-friendly cottages
Service building
Latrine emptying for movable tanks
Dishwasher
Dryer
Family bathroom
Dog shower
Disabled shower
Meeting rooms
Microwave
Baby changing room
Outdoor washing up
Oven
Separate shower cubicles
Latrine emptying for fixed tanks
Washing machine
Disabled WC
Service
Leader-led activities
Freshly baked bread
BBQ places
Kids' club
Café
Entertainment
Camps and groups
Kiosk
Charging point electric cars
Cafeteria
Midsummer celebrations
Dogs are welcome
Pub
Restaurant
Convenience shop
Defibrillator
Restaurant with outdoor seating
Swimming school
Wi-Fi 75-100 per cent coverage
Waste sorting
Activities
Badminton
Dog exercise area
Basketball court
Beach volleyball
Shuffleboard
Table tennis
Playground
Bike trail
Dance floor
Downhill
Outdoor gym
Football pitch
Games room
Indoor gym
Kayak
Riding
High-ropes course
Agility course
Padel
Children's playroom
Cross-country skiing
Indoor arena
Mini-golf
Motionslopp
Multi-pitch
Skateboard ramp
Skates
Tennis
Swimming
Children's pool
Indoor pool
Jacuzzi
Water park
Outdoor pool
Sauna
Diving tower
Indoor pool
Water slide
Size
Number of pitches: 665
Number of long term pitches: 0
Number of cabins: 40
Contact
Gustavsvik, Örebro
Sommarrovägen 1
702 30, ÖREBRO
Open from: 2023-01-01
Open to: 2023-12-31