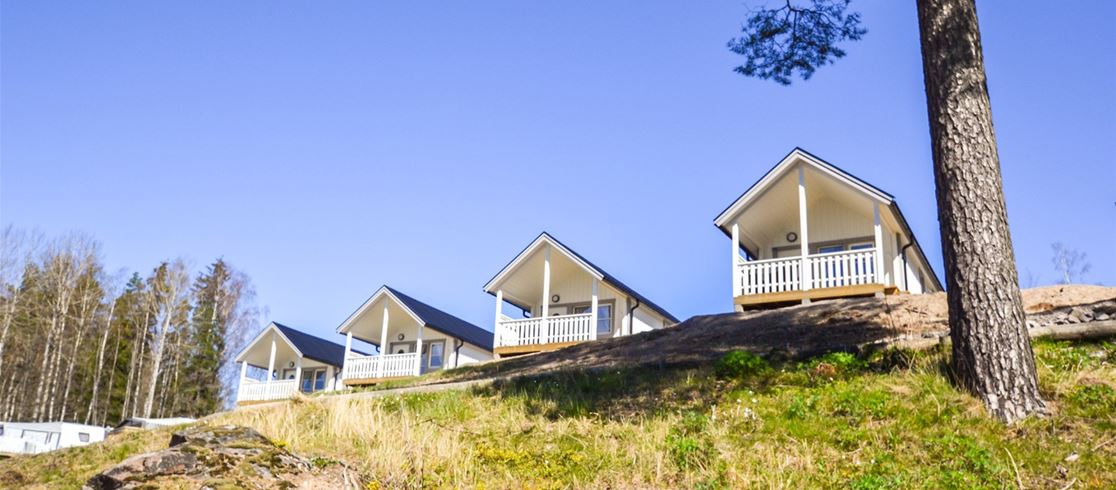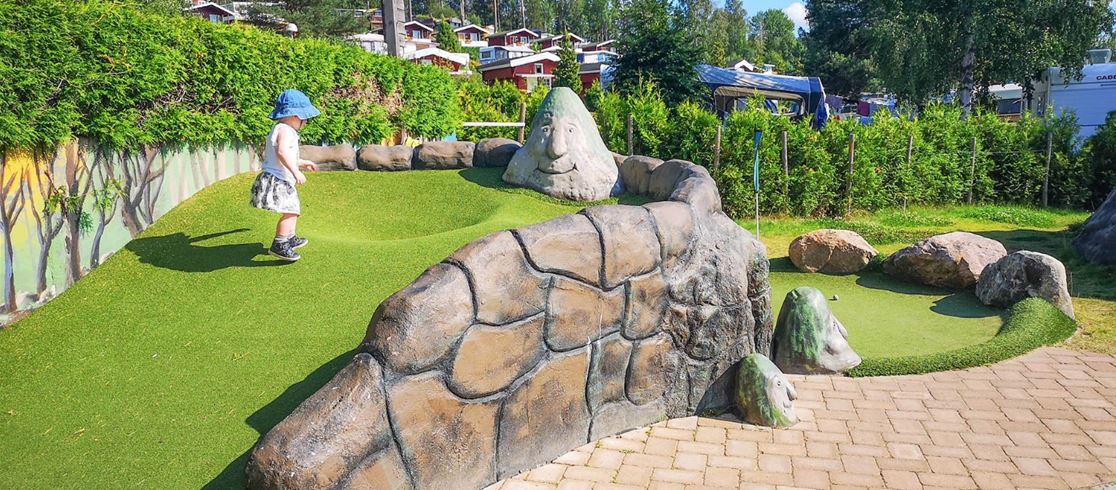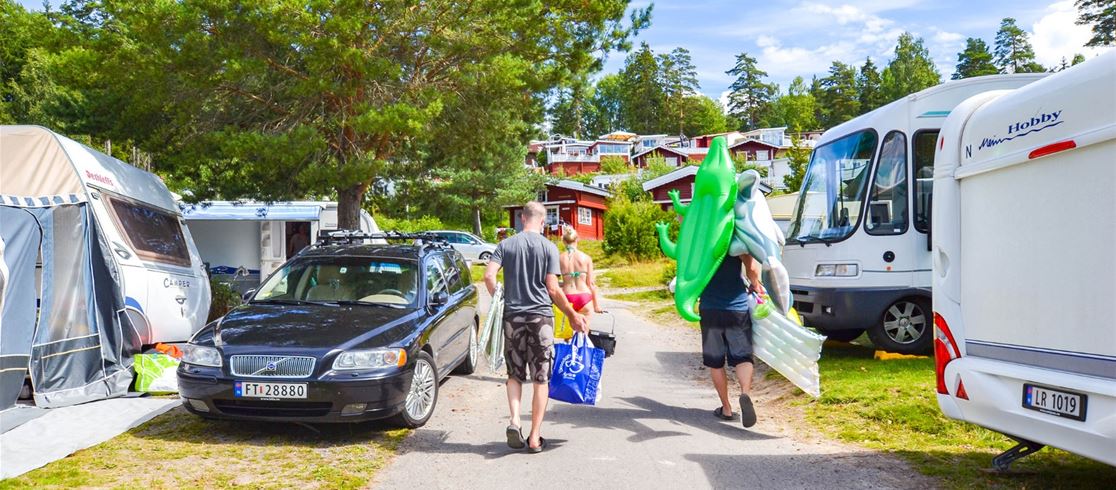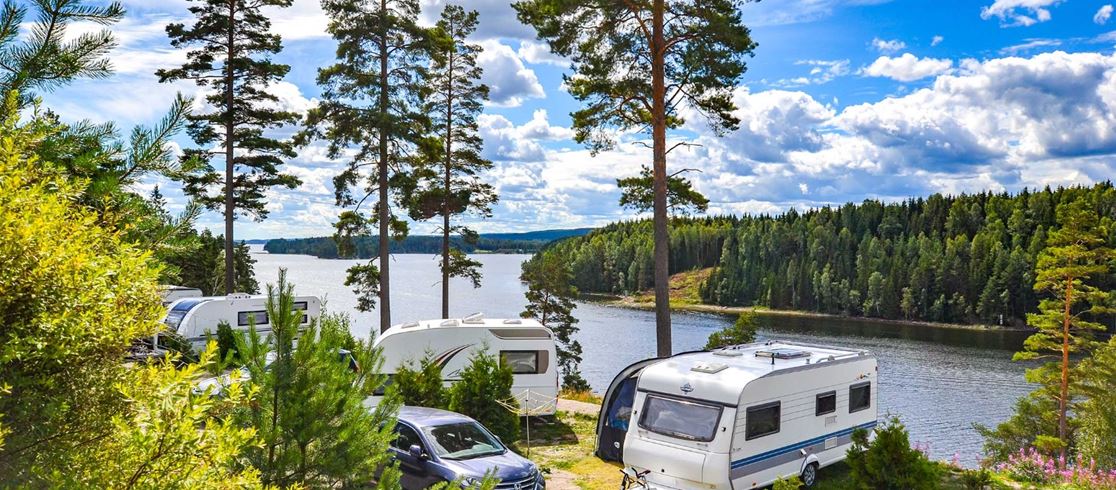 Årjäng Camping & Stugor, Sommarvik
ÅRJÄNG
Family
Free Wi-Fi
Peace and quiet
Pool
Forest and lake
Welcome to Årjäng in beautiful, lake-rich Värmland
Årjäng Camping & Cottages Sommarvik is a family-friendly facility open all the year round in southwestern Värmland. It has 300 pitches and 70 cottages. Pool area with 3 swimming pools. Pool bar and restaurant. Relaxation area and sauna. Canoe centre and playgrounds. Activities and Kids Club.
If you come on the E18, turn off in Årjäng and drive through this attractive community. Now, it's not far. Soon you can put on the handbrake, put down the stabilisers and put up the sun lounger. Or are you staying in a cottage? At the five-star Årjäng Camping & Cottages Sommarvik or 'Sommarvik' in short – as they call it – relaxation is the name of the game, if that's what you want, because the range of things to do, whoever you are and whatever you like, is also generous, to say the least.Adding that little bit extra to your and your family's leisure timeOutdoor swimming and a pool area, adventure golf, and canoe and fun kayak hire. These are just some of the things you'll find here in peak season. There is also a Kids Club and other leader-led activities – in peak season, the summer programme is packed with fun activities for young and old. The whole idea behind Sommarvik is to add that little bit extra to your and your family's leisure time and holiday – and it does that well. There are fun playgrounds and a child-friendly sandy beach with water attractions, a wood-fired sauna with its own jetty, a relaxation area with a jacuzzi, a Turkish steam sauna and a hot tub.Tranquillity on the doorstep and next to adventureA must when staying at Sommarvik is to explore the beautiful Värmland nature, preferably on a paddling tour on Västra Silen – an oligotrophic lake that is one of the largest in the Dalsland Canal lake system. A tour on Västra Silen is an incredibly fun and relaxing activity for the whole family and offers a unique wilderness feel. The area around Årjäng is also full of things to do, look at and experience. Visit Borgåsgubben (statue), Nordiska Travmuseet (trotting museum) or Glaskogen Nature Reserve. Ask in the reception for help to find nice new favourites.Link to booking and contact details for Sommarvik at the top of the page.A warm welcome!
Cottages provide comfortable and child-friendly holiday accommodation, and at Sommarvik there are several holiday villages with different characters and locations: near the beach with evening sun, a high location with lovely views, or central, close to the playground and pool area?
Facilities
Service building
Dishwasher
Family bathroom
Dog shower
Microwave
Oven
Latrine emptying for fixed tanks
Washing machine
Service
Leader-led activities
Kids' club
Breakfast
Fast food stall
Guest harbour
Kiosk
Conference facilities
Cafeteria
Dogs are welcome
Pub
Restaurant
Convenience shop
Defibrillator
WiFi
Activities
Playground
Motionslopp
Hiking trail
Adventure golf
Swimming
Children's pool
Jacuzzi
Sea swimming
Outdoor pool
Sauna
Hot tub
Size
Number of pitches: 300
Number of long term pitches: 200
Number of cabins: 70
Contact
Årjäng Camping & Stugor, Sommarvik
Sommarvik Strand
672 91, ÅRJÄNG
Open from: 2023-01-01
Open to: 2023-12-31