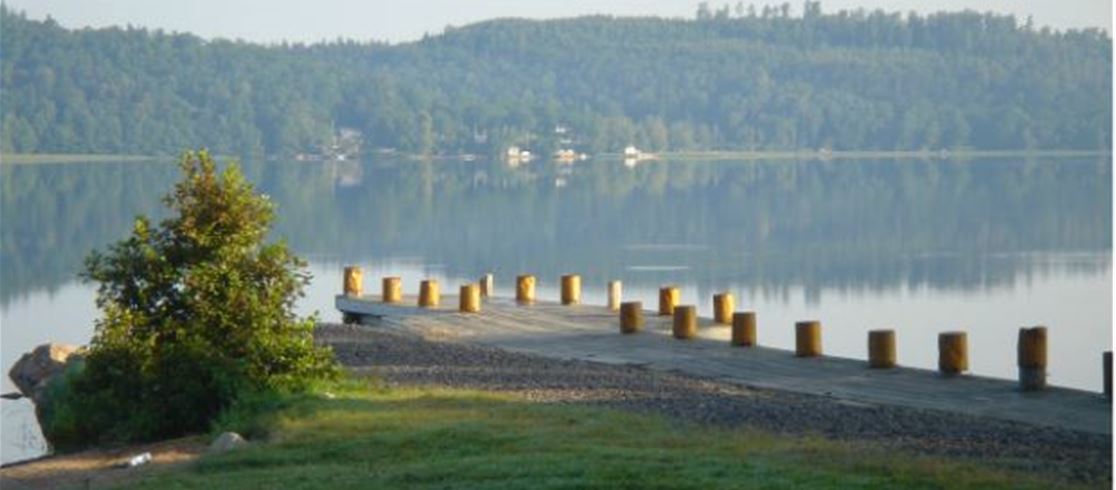 Skotteksgården Camping & Stugby
ULRICEHAMN
A Västgötland gem by Lake Åsunden
About 2 km south of Ulricehamn, right next to Lake Åsunden, you can relax at Skotteksgårdens Camping. It is a beautifully situated family campsite with a large range of activities on site as well as in the surroundings.
The campsite offers 50 camping pitches with electricity, an area without electricity for tents, overlooking the lake, fully equipped cottages and apartments and also cozy camping barrels for the extraordinary overnight stay.

Lots to do just around the corner
Skotteksgården has a very nice swimming area with a sandy beach, lawn, dock, diving board, boat pier, beach volleyball and a romantic beach walk. There is a play area for children and a relaxation area with sauna and a small whirlpool. Guests can rent canoes, rowboats and bicycles.

Close to history, hiking and beautiful nature
Although it is the ski slopes that are best known among Ulricehamn's outdoor activities, there are also several hiking and biking trails that go right by the campsite.

There are also several attractions with cultural-historical value and cozy cafes and shops in the area. Torpa Stenhus and Hofsnäs Herrgård are some of the most famous in the region. But of course there are many more gems to recommend.

A warm welcome to Skotteksgårdens Camping!
Facilities
Caravan
Motorhome
Zelt
Cottage
Flat
Pitches 80-100 sq. m
Pitches with water connection
Pitches with electricity
Säsongtomter
Accommodation
Flat
Caravan
Pitches with water connection
Motorhome
Pitches 80-100 sq. m
Säsongtomter
Pitches with electricity
Cottage
Zelt
Service building
Latrine emptying for movable tanks
Dishwasher
Dryer
Family bathroom
Freezer
Fridge
Disabled shower
Meeting rooms
Microwave
Baby changing room
Outdoor washing up
Oven
Washing machine
Disabled WC
Service
Freshly baked bread
BBQ places
Breakfast
Café
Company accommodation
Camps and groups
Kiosk
Conference facilities
Cafeteria
Dogs are welcome
Restaurant
Defibrillator
Restaurant with outdoor seating
Wi-Fi 75-100 per cent coverage
Waste sorting
Activities
Basketball court
Beach volleyball
Table tennis
Boule
Playground
Bike trail
Downhill
Football pitch
Indoor gym
Riding
High-ropes course
Padel
Mini-golf
Motionslopp
Skateboard ramp
Skates
Tennis
Swimming
Swimming jetty
Dog swimming
Lake swimming
Sandy beach
Sauna
Size
Number of pitches: 50
Number of long term pitches: 10
Number of cabins: 28
Contact
Skotteksgården Camping & Stugby
Skottek 115
523 41, ULRICEHAMN
Open from: 2023-04-21
Open to: 2023-09-24