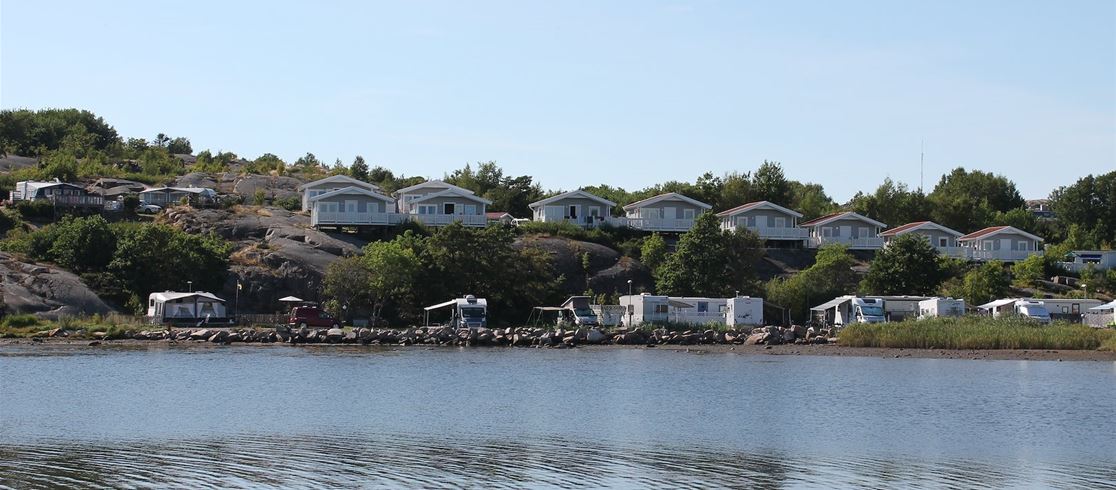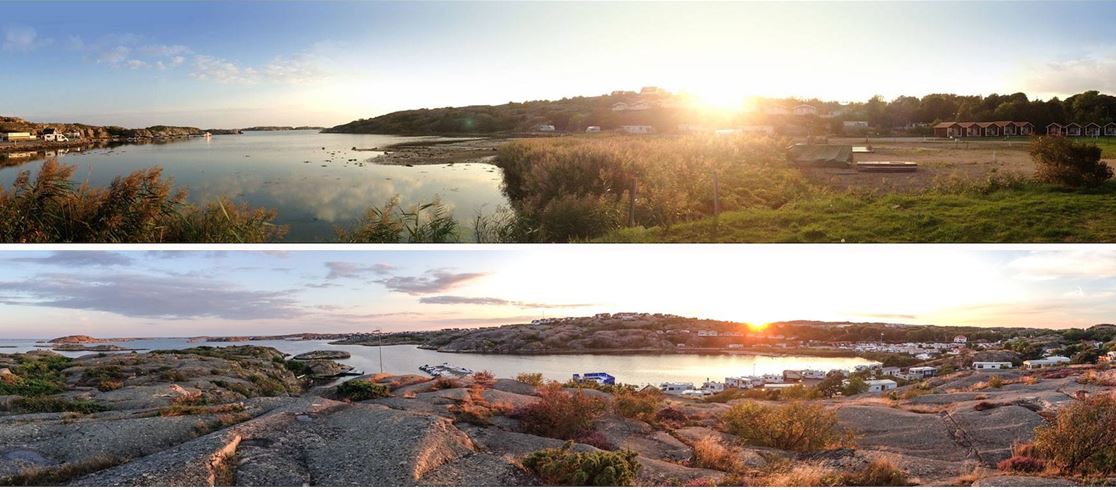 Wiggersviks Camping
Kungshamn
Free Wi-Fi
Peace and quiet
Fishing
Sea views
Welcome to Wiggersvik Camping & Stugor Our modern campsite is located right by the sea.
Welcome to Wiggersvik Camping & Stugor. Our modern campsite is located right by the sea. The varied landscape of Bohuslän Archipelago where the sea meets the granite offers all kinds of opportunities for relaxing and enjoying the salty water and lovely sea views from our beautiful campsite.

Take a dip in our solar-heated saltwater pool. Enjoy a cup of coffee, soft drink or ice cream on the ice cream kiosk terrace in the sun with splashes of saltwater. Our new relaxation area Kompassen has a Jacuzzi, sauna and balconies with lovely sea views where you can train or have a nice massage, etc. We also have the conference centre Fyren with the large hall Hållö and small hall Vinga.

Scenic environment approx 2.5 km from Kungshamn and 3.5 km from Smögen. Go by car, cycle or taxi, or walk. We have some 220 pitches with electricity and 2 large reserve fields with unnumbered pitches, with and without electricity – perfect for campers with tents. We also have 48 cottages of different sizes with 2 to 6 beds. All the cottages have an equipped kitchenette and patio. There is also a WC, shower, microwave and TV. Some of the 4-bed cottages have a WC but no shower.

The small cottages do not have a TV or microwave.
Service shop, kiosk, fully licensed restaurant serving today's special lunch, à la carte and pizza, and a fast food stall. Troubadour a couple of evenings a week in peak season.

Minigolf, conference and spa, TV lounge, boule court and BBQ area. Hire of boats, canoes, pedalos, cycles, caravans and cottages. Fishing, jogging track, etc. New service facility, and sauna every evening in peak season. Smögen, Kungshamn and Hunnebostrand offer many nice experiences including walks on the jetty and fun evening entertainment.

A visit to the lobster academy and fish auction, a boat trip to Hållö with cliffs and swimming, and a nice walk to Nordens Ark or Smögenbryggan Bridge are all worthwhile and obvious outings.

Welcome to Wiggersvik in Bohuslän on the West Coast! We hope you'll have a nice and sunny visit to our campsite.
At our campsite, most cottages have a lovely sea view. The cottages are grouped in small holiday villages and contain kitchens with cooking utensils, terrace with garden furniture, and most of them have TV. Pets are welcome in some cottages.
Facilities
Caravan
Motorhome
Zelt
Cottage
Luxury caravan
Pitches 80-100 sq. m
Adapted motorhome pitches
Pitches with electricity
Separate pitches for motorhomes
Säsongtomter
Accommodation
Caravan
Separate pitches for motorhomes
Luxury caravan
Motorhome
Pitches 80-100 sq. m
Adapted motorhome pitches
Säsongtomter
Pitches with electricity
Cottage
Zelt
Service building
Latrine emptying for movable tanks
Dishwasher
Dryer
Family bathroom
Dog shower
Disabled shower
Meeting rooms
Microwave
Baby changing room
Outdoor washing up
Oven
Separate shower cubicles
Latrine emptying for fixed tanks
Washing machine
Disabled WC
Service
Freshly baked bread
BBQ places
Boat slip
Bottled gas
Camps and groups
Guest harbour
Kiosk
Conference facilities
Charging point electric cars
Cafeteria
Dogs are welcome
Pub
Restaurant
Convenience shop
Defibrillator
Restaurant with outdoor seating
Wi-Fi 75-100 per cent coverage
Waste sorting
Activities
Badminton
Dog exercise area
Basketball court
Table tennis
Boule
Playground
Bike trail
Dance floor
Outdoor gym
Football pitch
Games room
Mini-golf
Motionslopp
Tennis
Windsurfing
Swimming
Swimming jetty
Children's pool
Dog swimming
Jacuzzi
Cliff swimming
Lake swimming
Sea swimming
Sauna
Winter swimming
Size
Number of pitches: 220
Number of long term pitches: 90
Number of cabins: 55
Contact
Wiggersviks Camping
Wiggersvik 5
456 34, Kungshamn
Open from: 2023-04-14
Open to: 2023-10-31