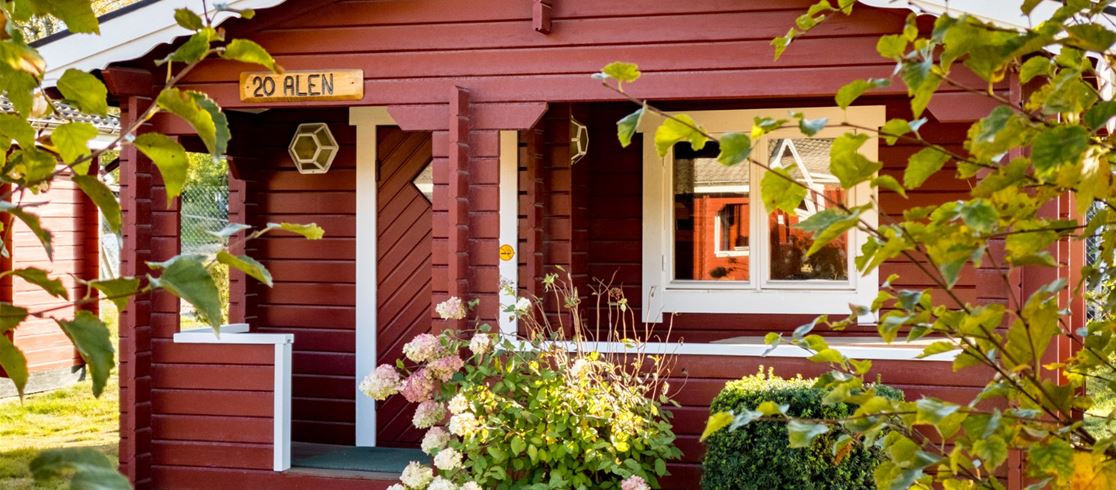 Mellbystrands Camping
MELLBYSTRAND
Close to the sea
Family
Free Wi-Fi
Entertainment
Food and drink
Music and events
Forest
Sun and swimming
After beach
Mellbystrands Camping in southwest of Sweden has 244 pitches and 21 cottages. We are a cozy family camp, located along a 14 km long beach We offers lovley after beach, grocery store, restaurant and pizza. From summer 2020 Mellbystrands is owned by the cousins Fredrik and Lennart.
Welcome to Mellbystrands Camping!

We have 244 pitches with and without electricity, some also with water connection.

News for 2021 is our grocery store, Handlar'n (The Trader). We offer fresh fruit and vegetables, charcuterie, dairy and of course candy, ice cream and soda.
Another news is our Glasseria, where we offer locally produced Italian ice cream, based on genuine ingredients! Must be experienced!
The camp site is located on the beach with only 150m to the ocean. 14kilometers of child friendly beach, surrounded by high sand dunes.

Activities:
Live music on the beach. Youth firefighters Helicopter. Folk dance, golf, minigolf, tennis, fishing, trails for running, biking and walking
Adventure park close by the camp site.

Welcome to Mellbystrand, the West coast pearl.

Mellbystrands Camping offers cosy camping cottages. The cottages are equipped for self-catering, where some have WCs. Showers and WCs are available in the tiled service building which also has a laundry room, a accessibility adapted toilet and baby changing facilities. All are equipped with fridges, hot and cold running water and hotplates. Covered patio with garden furniture.
Facilities
Caravan
Motorhome
Zelt
Cottage
Caravan to hire
Disabled-friendly cottages
Pitches 80-100 sq. m
Pitches 100-120 sq. m
Pitches 120- sq. m
Pitches with waste connection
Pitches with water connection
Pitches with electricity
Säsongtomter
Accommodation
Caravan
Caravan to hire
Pitches with waste connection
Pitches with water connection
Motorhome
Pitches 80-100 sq. m
Pitches 100-120 sq. m
Pitches 120- sq. m
Säsongtomter
Pitches with electricity
Cottage
Zelt
Disabled-friendly cottages
Service building
Latrine emptying for movable tanks
Dishwasher
Dryer
Family bathroom
Freezer
Fridge
Dog shower
Disabled shower
Meeting rooms
Microwave
Baby changing room
Outdoor washing up
Oven
Separate shower cubicles
Latrine emptying for fixed tanks
Washing machine
Disabled WC
Service
Leader-led activities
Freshly baked bread
BBQ places
Kids' club
Breakfast
Café
Café
Automatic check in
Entertainment
Company accommodation
Camps and groups
Kiosk
Conference facilities
Cafeteria
Midsummer celebrations
Dogs are welcome
Pub
Restaurant
Convenience shop
Defibrillator
Restaurant with outdoor seating
WiFi
Wi-Fi 75-100 per cent coverage
Waste sorting
Activities
Badminton
Beach volleyball
Shuffleboard
Boule
Playground
Bouncy cushion
Bike trail
Dance floor
Downhill
Outdoor gym
Football pitch
Indoor gym
Kayak
High-ropes course
Kitesurfing
Padel
Children's playroom
Cross-country skiing
Mini-golf
Motionslopp
Zipline
Tennis
Windsurfing
Swimming
Dog swimming
Naturist swimming
Sea swimming
Outdoor pool
Sandy beach
Sauna
Winter swimming
Size
Number of pitches: 236
Number of long term pitches: 50
Number of cabins: 21
Contact
Mellbystrands Camping
Norra Strandvägen 1
312 60, MELLBYSTRAND
Open from: 4/1/2022 12:00:00 AM
Open to: 12/31/2023 12:00:00 AM