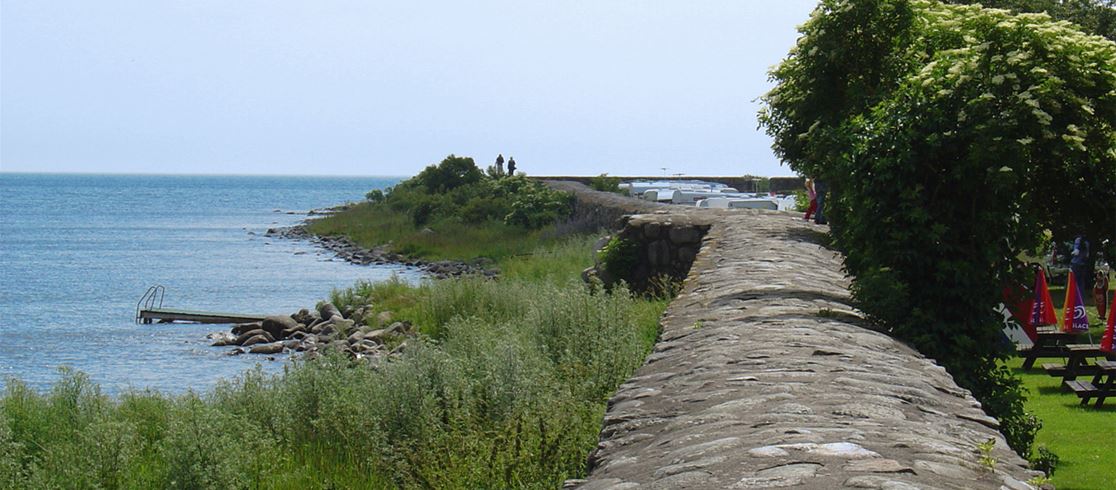 Kristianopel Resort
FÅGELMARA
Close to the sea
Peace and quiet
Sun and swimming
Hiking
Sweden's hippest campsite. Live music every night, beside the sea in surroundings full of history. A truly different campsite!
Kristianopel is located on a cape in the south of Kalmar Strait. Kristianopel Camping, with the sea right outside the old town walls, is a unique place where history mixes with the call of the seagulls, smoke rising from the evening barbecue, children's laughter from the playground and music from the evening's orchestra…

There are several different places here where you can go for a swim and the water usually stays warm well into September. Enjoy great experiences in our little village, from free entertainment in the form of our friends trying to moor their boats in our guest harbour with varying, sometimes comical results, to the music performed at the evening concerts in the church. Our own restaurant Pålsgården offers live music every evening in high season.

If you wish to spend the night, Kristianopel Resort offers several alternatives.
- A large camping pitch for guests arriving with their own caravan or motorhome.
- Brand new, smaller cabins with 2 beds, only 25 m to the service building.
- Our larger 30 m² cottages sleep 5 people and are currently undergoing refurbishment.
The larger cottages are located in a scenic area 100 m to swimming. Showers and WCs are located in our nearby newly renovated service building.
- If you are arriving by boat you'll moor at the jetty, also managed by us, in the heart of Kristianopel.

Restaurang Pålsgården on the campsite grounds offers good food, cooling beverages and several evenings a week you can listen to live music here. The new addition to our family, Hamnkrogen, is located in the harbour and is frequented by many guests arriving by boat. Here you can enjoy a variety of fish courses, have a beer or a glass of wine with the sea as you closest neighbour.

Welcome to experience an unforgettable stay here with us.

The cottages are approx 30 m² with one bedroom with two beds, living room with dining area for five and a sofa bed that turns into a double bed with a top bunk. Shower & WC in service building. We also have smaller cottages, 10 m², for two persons. The cottages have a double bed, pillows and blankets.
Facilities
Caravan
Motorhome
Zelt
Cottage
Room
Pitches 80-100 sq. m
Pitches 100-120 sq. m
Pitches with electricity
Säsongtomter
Accommodation
Caravan
Motorhome
Pitches 80-100 sq. m
Pitches 100-120 sq. m
Room
Säsongtomter
Pitches with electricity
Cottage
Zelt
Service building
Latrine emptying for movable tanks
Dryer
Family bathroom
Fridge
Disabled shower
Microwave
Baby changing room
Outdoor washing up
Oven
Separate shower cubicles
Latrine emptying for fixed tanks
Washing machine
Disabled WC
Service
BBQ places
Kids' club
Café
Café
Entertainment
Company accommodation
Camps and groups
Guest harbour
Kiosk
Cafeteria
Midsummer celebrations
Dogs are welcome
Pub
Restaurant
Convenience shop
Defibrillator
Restaurant with outdoor seating
Wi-Fi 75-100 per cent coverage
Activities
Table tennis
Boule
Playground
Bike trail
Dance floor
Birdwatching
Kayak
Mini-golf
Motionslopp
Swimming
Swimming jetty
Dog swimming
Sea swimming
Sandy beach
Size
Number of pitches: 110
Number of long term pitches: 10
Number of cabins: 24
Contact
Kristianopel Resort
Kristianopel
373 78, FÅGELMARA
Open from: 2023-04-06
Open to: 2023-09-24