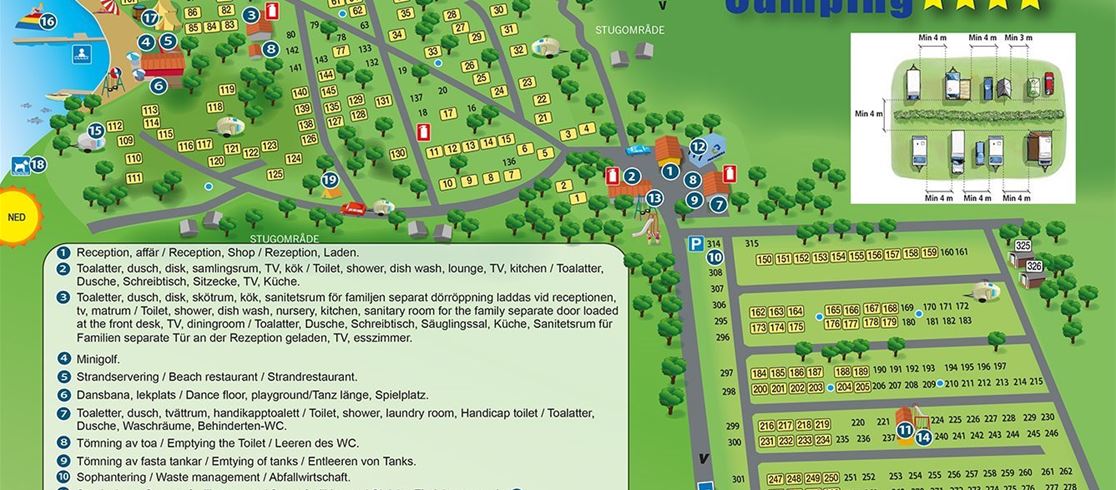 Norje Boke Camping
Sölvesborg
Close to the sea
Family
Free Wi-Fi
Music and events
Idyllic family campsite by the sea
Norje Boke Camping is an idyllic family campsite located next to Pukaviksbukten. It offers lovely beaches and lots of exciting activities
The campsite is beautifully surrounded by the sea. The camping pitches are divided over two areas close to playgrounds, restaurant, beach, shop, reception and service houses.
Choose between camping pitches with sea views or stay in the warm winds of the shade. There are also two large, fully equipped cottages, as well as luxury glamping tents.
In the area there are three service houses with kitchen, living room, shower room and toilets.

Try glamping
At the campsite there is also the opportunity to try glamping. In the "Glamping Oasis" you live in 19 sqm large canvas tents with a double bed, comfortable armchairs, soft blankets and pillows. For your comfort there is also a bathrobe and slippers. The tents are surrounded by lights, cozy lanterns and overlooking the sea. You also have free access to a wood-fired hot tub.

Lots to do
At Norje Boke Camping you can enjoy a relaxing holiday in a beautiful natural area with fun activities for the whole family. During the high season, dance evenings are arranged as well as various forms of entertainment, such as music quizzes, karaoke, children's disco and more. The campsite has a kids' club three days a week, a water park by the sea, and a playground with, among other things, a carousel swing and cable car.

Holidays for the dog
If you bring your dog on your holiday, there is a dog bath and in the restaurant "The dog's own ice cream" is served. There is also a dog shower at the campsite.

Welcome to Norje Boke Camping!

Facilities
Caravan
Motorhome
Zelt
Cottage
Luxury caravan
Glamping
Disabled-friendly cottages
Pitches 120- sq. m
Adapted motorhome pitches
Pitches with electricity
Separate pitches for motorhomes
Säsongtomter
Accommodation
Caravan
Separate pitches for motorhomes
Luxury caravan
Glamping
Motorhome
Adapted motorhome pitches
Pitches 120- sq. m
Säsongtomter
Pitches with electricity
Cottage
Zelt
Disabled-friendly cottages
Service building
Latrine emptying for movable tanks
Dishwasher
Dryer
Family bathroom
Fridge
Dog shower
Disabled shower
Meeting rooms
Microwave
Baby changing room
Oven
Separate shower cubicles
Latrine emptying for fixed tanks
Washing machine
Disabled WC
Service
Leader-led activities
Freshly baked bread
BBQ places
Kids' club
Breakfast
Café
Café
Entertainment
Fast food stall
Company accommodation
Camps and groups
Guest harbour
Kiosk
Conference facilities
Cafeteria
Midsummer celebrations
Dogs are welcome
Pub
Restaurant
Convenience shop
Defibrillator
Restaurant with outdoor seating
WiFi
Waste sorting
Activities
Dog exercise area
Basketball court
Beach volleyball
Shuffleboard
Table tennis
Boule
Playground
Bouncy cushion
Bike trail
Dance floor
Outdoor gym
Football pitch
Birdwatching
Games room
Kayak
Riding
Angling
Agility course
Padel
Children's playroom
Motionslopp
Skateboard ramp
Trampoline
Tennis
Swimming
Swimming jetty
Dog swimming
Jacuzzi
Sea swimming
Sandy beach
Diving tower
Hot tub
Water slide
Size
Number of pitches: 200
Number of long term pitches: 70
Number of cabins: 2
Contact
Norje Boke Camping
Norje Boke vägen
294 76, Sölvesborg
Open from: 2023-01-01
Open to: 2023-12-31