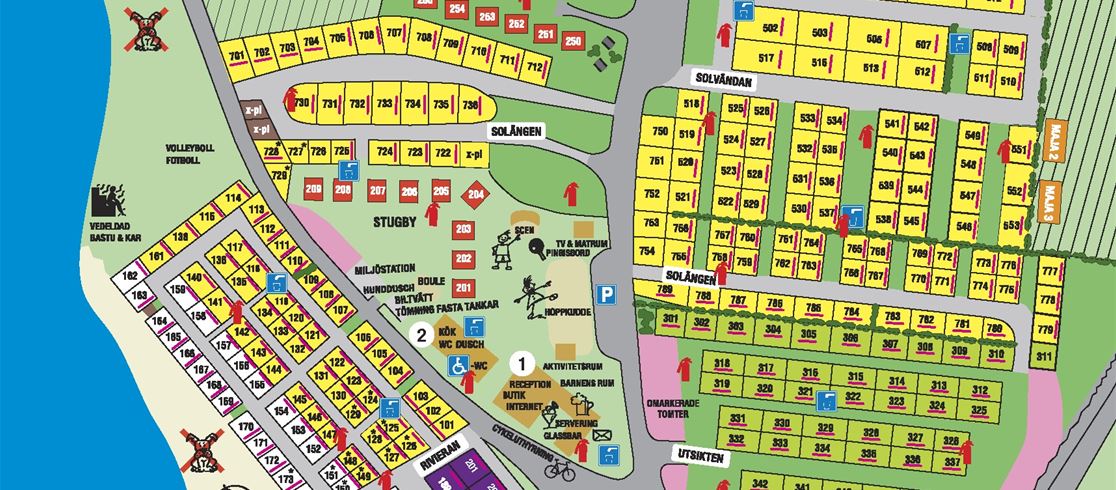 Klinta Camping
KÖPINGSVIK
Close to the sea
Family
Free Wi-Fi
Sun and swimming
Close to town/city
Welcome to Klinta Camping in Köpingsvik by one of the islands best beaches.
Klinta Camping is a 4-star campsite with cottages in a scenic setting in Köpingsvik on sunny Öland.

Klinta Camping is an ideal base for excursions to all of the islands tourist attractions, which offer everything you need for a great holiday. Klinta Camping is situated on the west coast of Öland by one of the islands best beaches for swimming. Guaranteed shallow waters and a wonderful, sandy beach.

Klinta Camping has approx 350 camping pitches. Many of these have electricity and water and wastewater hook-ups. There are two modern service buildings on-site. We also offer 5 different types of cottages.

Quizz, Children activities, Musicenentertainment etc in July. Boules, tennis, basketball, football, volleyball etc. Sauna and bicycle hire. Close to minigolf and adventure golf.
Facilities
Caravan
Motorhome
Zelt
Cottage
Pitches 80-100 sq. m
Pitches 100-120 sq. m
Pitches with waste connection
Pitches with water connection
Pitches with electricity
Säsongtomter
Accommodation
Caravan
Pitches with waste connection
Pitches with water connection
Motorhome
Pitches 80-100 sq. m
Pitches 100-120 sq. m
Säsongtomter
Pitches with electricity
Cottage
Zelt
Service building
Latrine emptying for movable tanks
Dishwasher
Dryer
Dog shower
Disabled shower
Meeting rooms
Microwave
Baby changing room
Oven
Separate shower cubicles
Latrine emptying for fixed tanks
Washing machine
Disabled WC
Service
Leader-led activities
Freshly baked bread
BBQ places
Café
Entertainment
Kiosk
Charging point electric cars
Cafeteria
Dogs are welcome
Restaurant
Convenience shop
Defibrillator
Restaurant with outdoor seating
Wi-Fi 75-100 per cent coverage
Activities
Dog exercise area
Basketball court
Beach volleyball
Table tennis
Boule
Playground
Bouncy cushion
Bike trail
Outdoor gym
Football pitch
Birdwatching
Games room
Padel
Indoor arena
Mini-golf
Motionslopp
Skateboard ramp
Tennis
Windsurfing
Swimming
Swimming jetty
Dog swimming
Sea swimming
Sandy beach
Sauna
Hot tub
Size
Number of pitches: 350
Number of long term pitches: 70
Number of cabins: 24
Contact
Klinta Camping
Klinta Bodars väg 20
387 50, KÖPINGSVIK
Open from: 2023-01-14
Open to: 2023-10-02