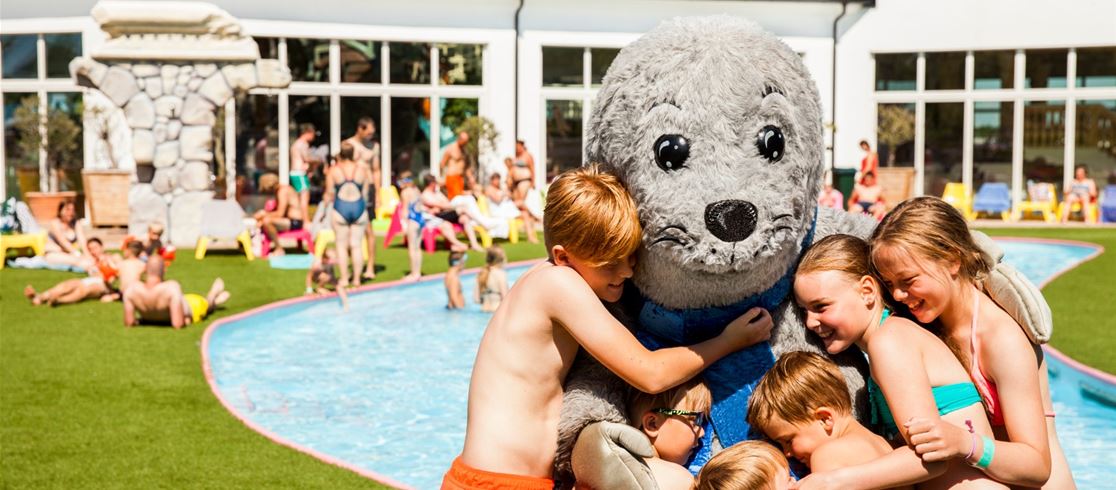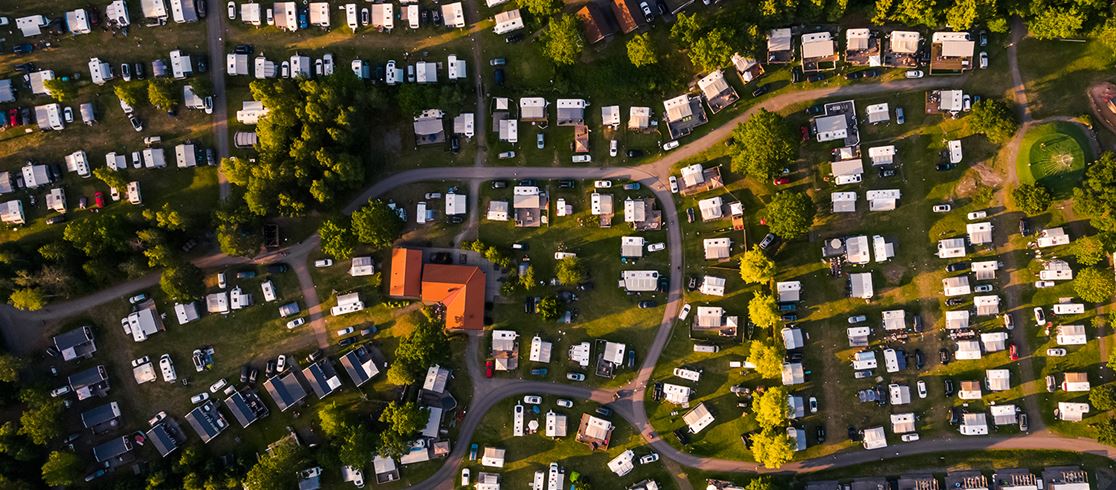 Västervik Resort
VÄSTERVIK
Sun-warmed cliffs, sandy beach or water games in the pool at one of Sweden's finest holiday resorts.
We are the first resort facility in Sweden to invest in a completely new concept with indoor and outdoor pools that will make you think of the lovely sandy beaches and rolling waves of the Mediterranean.

The children can get butterflies in their stomachs with the wave currents, water slides and pools, and the adults can enjoy the relaxation area, different kinds of saunas and hot springs at our Roman baths. The adventure mountain, which is the central part of the water park, includes slides, currents, aquariums, a cave and cool play settings for all ages.

There is also a restaurant and café area that will serve food and drink with Mediterranean inspiration daily in peak season and at the weekends from April to October.

Västervik Resort has a wide range of cottages, pitches, luxury caravans, a youth hostel and much more. Stay right by the beautiful Baltic Sea in Småland, with easy access to the cliffs for fishing, bag nets and sunbathing. The archipelago town of Västervik is just a short walk or cycle ride away. The archipelago boats, which run several times a day from our own harbour, will take you out to the islands around Västervik where you can visit the picturesque Hasselö with 'remmalag' (horse and cart) and home-smoked fish on the jetty or Idö with seal and eagle safaris, kayak hire and a restaurant.

There is no need to be bored with our wide range of activities. At the Lysse Club there is play and exciting activities every day! Treasure hunts, theatre, snorkelling and exploring the Baltic Sea, troll adventures, BBQ evenings on Korparholmarna and meeting Lysse – our very own seal buddy and his friends. Or challenge yourself on the adventure mountain, jump in the bouncy cushion land, skate in the middle of summer, explore the area by Segway or just relax and enjoy an excellent meal.

At Västervik Resort there is something for everyone!

A warm welcome!
At Lysingsbadet there is an accommodation option for everyone. With various standards and prices, you can choose between exclusive or simple. At Lysingsbadet you will be able to find your favorite cabin. Don't miss our newly renovated accommodation – Björkö and Lindö for the larger family. Regardless of where you stay you are close to the sea and have free access to Lysingsbadet's own pool area.
Facilities
Caravan
Motorhome
Zelt
Cottage
Flat
Luxury caravan
Quick Stop
Disabled-friendly cottages
Pitches 80-100 sq. m
Pitches 100-120 sq. m
Pitches 120- sq. m
Adapted motorhome pitches
Pitches with a permanent terrace
Pitches with waste connection
Pitches with water connection
Pitches with electricity
Stellplätze mit TV-Anschluss
Säsongtomter
Accommodation
Flat
Caravan
Luxury caravan
Pitches with waste connection
Pitches with water connection
Motorhome
Pitches 80-100 sq. m
Pitches 100-120 sq. m
Stellplätze mit TV-Anschluss
Adapted motorhome pitches
Pitches 120- sq. m
Pitches with a permanent terrace
Quick Stop
Säsongtomter
Pitches with electricity
Cottage
Zelt
Disabled-friendly cottages
Service building
Latrine emptying for movable tanks
Dishwasher
Dryer
Family bathroom
Latrine emptying, automatic
Freezer
Fridge
Dog shower
Disabled shower
Meeting rooms
Microwave
Baby changing room
Outdoor washing up
Oven
Separate shower cubicles
Latrine emptying for fixed tanks
Washing machine
Disabled WC
Service
Leader-led activities
Freshly baked bread
BBQ places
Kids' club
Breakfast
Café
Café
Automatic check in
Entertainment
Company accommodation
Bottled gas
Camps and groups
Guest harbour
Kiosk
Conference facilities
Charging point electric cars
Cafeteria
Midsummer celebrations
Dogs are welcome
Pub
Restaurant
Spa and treatments
Convenience shop
Defibrillator
Restaurant with outdoor seating
Wi-Fi 75-100 per cent coverage
Waste sorting
Activities
Basketball court
Beach volleyball
Shuffleboard
Boule
Playground
Climbing wall
Bouncy cushion
Bike trail
Dance floor
Outdoor gym
Football pitch
Birdwatching
Indoor gym
Kayak
Riding
Angling
Padel
Children's playroom
Cross-country skiing
Indoor arena
Mini-golf
Motionslopp
Multi-pitch
Skateboard ramp
Skates
Tennis
Size
Number of pitches: 855
Number of long term pitches: 200
Number of cabins: 166
Contact
Västervik Resort
Lysingsvägen
59353, VÄSTERVIK
Open from: 2023-01-01
Open to: 2023-12-31