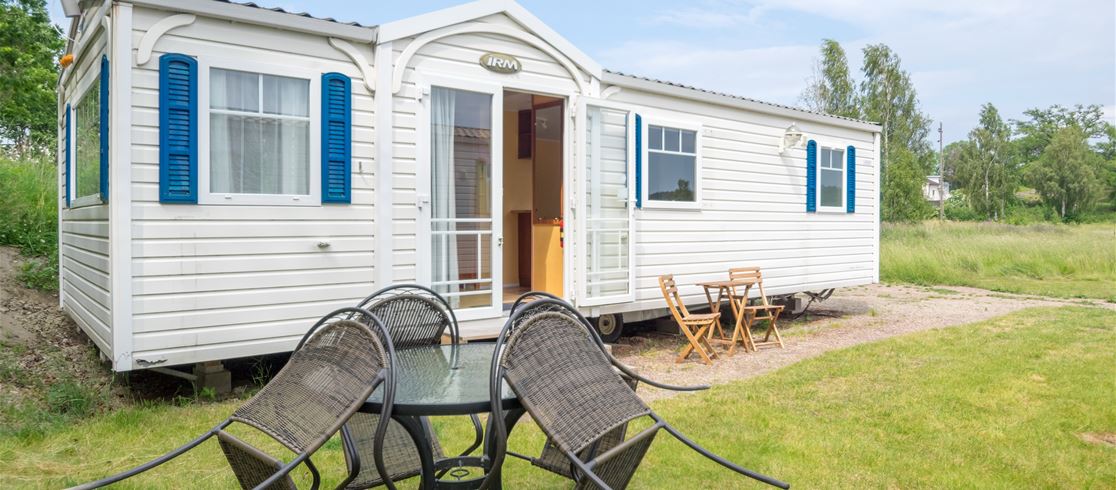 KustCamp Gamleby
GAMLEBY
Close to the sea
Free Wi-Fi
Midsummer celebrations
Fishing
Sea views
Sun and swimming
Four-star family campsite by the sea
At KustCamp Gamleby you are close to Astrid Lindgren's world and can still live close to the sea. A four-star facility with a nice reception, convenience store and popular restaurant. Nice lagoon bath and diving tower. Stable pitches for motorhomes.
KustCamp Gamleby is a four-star family campsite with unique, child-friendly swimming in a lagoon. Here you live close to the sea and about 45 minutes from one of Småland's most popular destinations for families with children - Astrid Lindgren's World in Vimmerby.The campsite offers 140 terraced pitches in a scenic seaside location. Special pitches adapted for motorhomes. In addition to the pitches, there are 32 cottages in different sizes; 4-8 beds,10 - 70 sqm, several with a sea view. Modern servicebuidings. The kitchens dishwashers that wash up in 3 minutes. Free WiFi by the reception. Lots of activities on site and nearbyIf you like to be active on your holiday KustCamp Gamleby is perfect. Here you can rent different vehicles, play with the popular floating trampoline down by the bath or let the little ones run off on the playground. Wood-fired family sauna for hire by the lake. 10 m diving tower. Fun mini-golf course. Separate dog swimming area. Canoes, rowing boats and motor boats with 15 hp engines. Excellent pike fishing in the inlet. A visit to Astrid Lindgren's World is only 45 km away. Welcome to KustCamp Gamleby!
We offer cottages by the sea! Several different types of cottage lodging, everything from fully equipped cottages with eight beds to more basic overnight cottages with four beds. The cottages are 10-70 m². All have patios and some provide beautiful views of the water.
Facilities
Caravan
Motorhome
Zelt
Cottage
Luxury caravan
Glamping
Hotel
Quick Stop
Disabled-friendly cottages
Pitches 100-120 sq. m
Adapted motorhome pitches
Pitches with electricity
Säsongtomter
Accommodation
Caravan
Luxury caravan
Glamping
Hotel
Motorhome
Pitches 100-120 sq. m
Adapted motorhome pitches
Quick Stop
Säsongtomter
Pitches with electricity
Cottage
Zelt
Disabled-friendly cottages
Service building
Latrine emptying for movable tanks
Dishwasher
Dryer
Family bathroom
Disabled shower
Meeting rooms
Microwave
Baby changing room
Oven
Separate shower cubicles
Latrine emptying for fixed tanks
Washing machine
Disabled WC
Service
Leader-led activities
Freshly baked bread
BBQ places
Boat slip
Café
Café
Automatic check in
Fast food stall
Company accommodation
Camps and groups
Guest harbour
Midsummer celebrations
Dogs are welcome
Restaurant
Convenience shop
Defibrillator
Restaurant with outdoor seating
Swimming school
WiFi
Waste sorting
Activities
Basketball court
Beach volleyball
Shuffleboard
Table tennis
Boule
Playground
Bouncy cushion
Dance floor
Outdoor gym
Football pitch
Birdwatching
Kayak
Riding
Angling
Children's playroom
Cross-country skiing
Indoor arena
Mini-golf
Motionslopp
Multi-pitch
Skates
Tennis
Swimming
Swimming jetty
Dog swimming
Sea swimming
Sandy beach
Sauna
Diving tower
Size
Number of pitches: 140
Number of long term pitches: 20
Number of cabins: 38
Contact
KustCamp Gamleby
Hammarsbadet, Hammarsvägen 10
59432, GAMLEBY
Open from: 2023-03-24
Open to: 2023-10-29