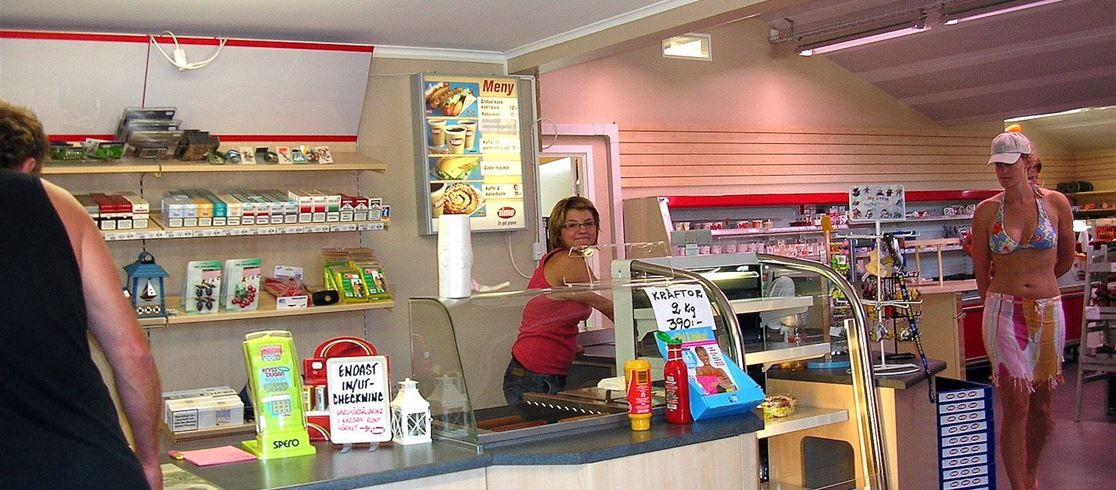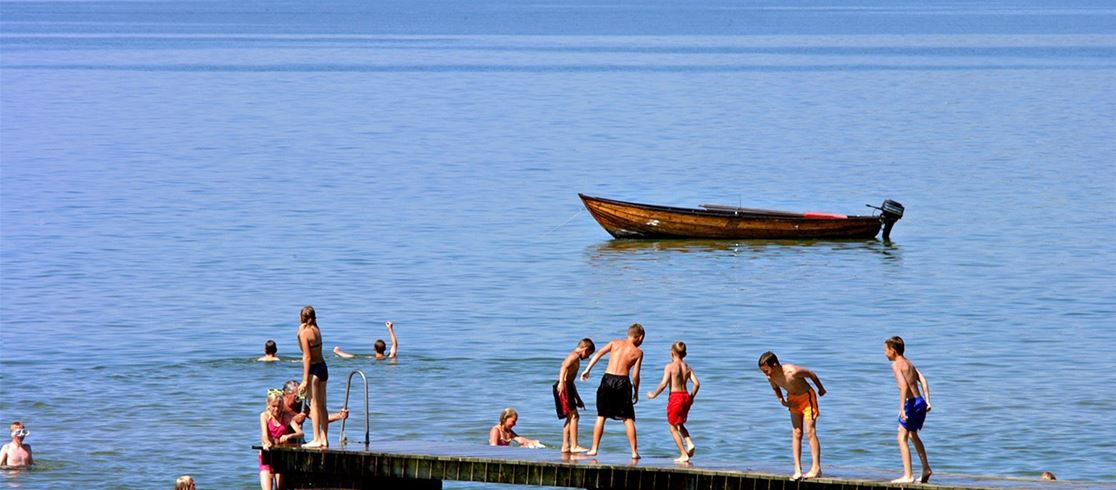 Vadstena Camping
Vadstena
Family
Food and drink
Music and events
Sun and swimming
Welcome to Vadstena Camping. The family camping Vadstena Camping (Vätterviksbadet) is situated two kilometers north of Vadstena
The family camping Vadstena Camping (Vätterviksbadet) is situated two kilometers north of Vadstena. The area is 30 acres and includes tent sites, over 280 sites with electricity as well as sites for free placement of both tents and caravans. We offer you the best spot for sun and bathing by the Vättern lake. The bay is shallow with a sandy bottom and the beach is child-friendly.

Vadstena Camping is a four-star holiday camp. Besides camping, we also offer accomodation in cabins, rooms and mobile homes. Our mini-mart is open after-hours and fresh bread is available every morning.

The camping also offers a number of activities. The proximity to Vadstena and its surroundings, as well as Motala, makes our camping the perfect starting point for exciting excursions. Set up your base camp at our camping, and then you're ready to explore all the attractions in one of the largest tourist areas in Sweden.
Our cabins and mobile homes are a comfortable options. As a guest, you only need to bring your own towels bed linens – everything else is already in place. You can also buy single-use sheets at the camping reception. Our four bedded cabins are 24 m2 and beautifully situated by the beach of Vättern. You can enjoy the beautiful view over Vättern right outside on your veranda! All cabins are equipped with a stowe, refrigerator and complete kitchen equipment. We have two sizes of mobile homes, one for 4 persons and one for 6 persons. To all our mobile homes there are a big veranda with outdoor furniture, and you can park your car next to it. Our overnight cabins are intended for two persons and they are 8 m2.'
Facilities
Caravan
Motorhome
Zelt
Cottage
Luxury caravan
Quick Stop
Pitches 80-100 sq. m
Pitches 100-120 sq. m
Pitches 120- sq. m
Adapted motorhome pitches
Pitches with electricity
Säsongtomter
Accommodation
Caravan
Luxury caravan
Motorhome
Pitches 80-100 sq. m
Pitches 100-120 sq. m
Adapted motorhome pitches
Pitches 120- sq. m
Quick Stop
Säsongtomter
Pitches with electricity
Cottage
Zelt
Service building
Latrine emptying for movable tanks
Dishwasher
Dryer
Family bathroom
Latrine emptying, automatic
Freezer
Fridge
Dog shower
Disabled shower
Meeting rooms
Microwave
Baby changing room
Outdoor washing up
Oven
Separate shower cubicles
Latrine emptying for fixed tanks
Washing machine
Disabled WC
Service
Leader-led activities
Freshly baked bread
BBQ places
Kids' club
Café
Café
Entertainment
Fast food stall
Camps and groups
Kiosk
Cafeteria
Midsummer celebrations
Dogs are welcome
Pub
Restaurant
Convenience shop
Defibrillator
Restaurant with outdoor seating
Wi-Fi 75-100 per cent coverage
Waste sorting
Activities
Dog exercise area
Beach volleyball
Table tennis
Boule
Playground
Bouncy cushion
Bike trail
Dance floor
Outdoor gym
Football pitch
Birdwatching
Indoor gym
Kayak
Padel
Children's playroom
Indoor arena
Mini-golf
Motionslopp
Skateboard ramp
Tennis
Swimming
Swimming jetty
Dog swimming
Jacuzzi
Lake swimming
Sandy beach
Sauna
Size
Number of pitches: 459
Number of long term pitches: 110
Number of cabins: 40
Contact
Vadstena Camping
Tegellöten 200
592 94, Vadstena
Open from: 2023-04-28
Open to: 2023-09-10