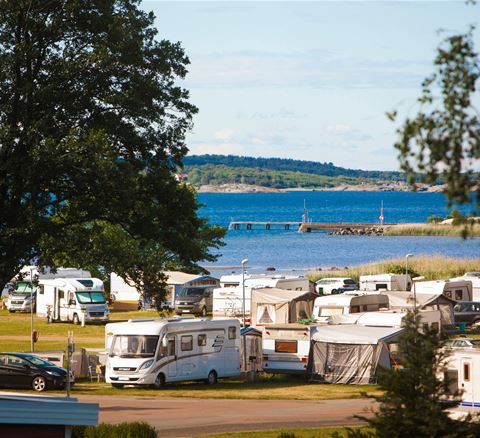 Liseberg Camping Askim Strand
Askim
Beach
City centre
Sea
Free Wi-Fi
Pets
Motorhome
Music and events
Close to amusement park
Sun and swimming
Stad
Close to town/city
City and beach
The popular campsite of Liseberg Camping Askim Strand lies just 15 km south of Gothenburg centre.
Here, right by the sea, you can stay in a youth hostel room, tent or caravan only 5 minutes' walk to one of Gothenburg's most popular bathing beaches.

At Liseberg Camping Askim Strand you can relax in a delightful setting. You have a modern service building at your disposal, as well as a sauna, laundrette and lots more.

There are plenty of activities for guests of all ages, including quiz walks and mini-golf. If you want to head into town, there's a express bus stop only 5-10 minutes' walk from the site.

We have youth hostel rooms for 4 persons, with fully equipped kitchen. Shower and toilets in adjacent building which is for the exclusive use of apartment guests. Outdoor furniture at the front.
Travel to Liseberg amusement park and the city centre in 20 minutes. 3.5 km to shopping centre with 200 shops.
Facilities
Caravan
Motorhome
Zelt
Youth hostel
Säsongtomter
Accommodation
Camping sites
Caravan
Motorhome
Säsongtomter
Zelt
Youth hostel
Service building
Dishwasher
Dryer
Family bathroom
Meeting rooms
Microwave
Baby changing room
Oven
Latrine emptying for fixed tanks
Washing machine
Disabled WC
Service
BBQ places
Kiosk
Dogs are welcome
Convenience shop
Defibrillator
WiFi
Swimming
Cliff swimming
Sea swimming
Sandy beach
Sauna
Size
Number of pitches: 400
Number of long term pitches: 50
Contact
Liseberg Camping Askim Strand
Marholmsvägen 124
436 45, Askim
Open from: 2023-04-20
Open to: 2023-08-27