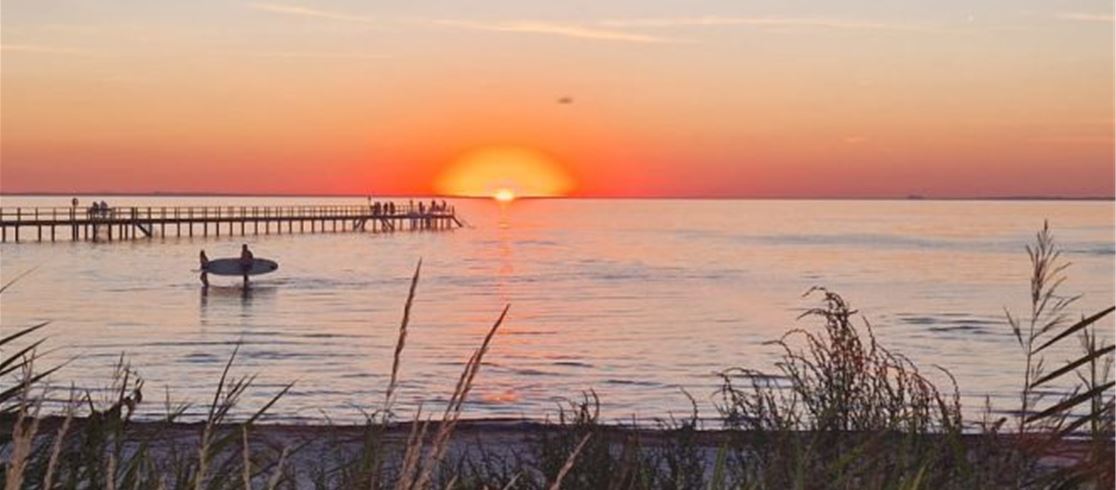 Barsebäckstrand Camping
Barsebäck
Beach
Close to the sea
Sea
Golf
Motorhome
Midsummer celebrations
Outdoor
Peace and quiet
Sun and swimming
View
Stay right by the sea
A small, quiet campsite right on Öresund, the sound separating Sweden and Denmark. Enjoy the magnificent sandy beach and the jetty with fantastic views of the sunset.
At Barsebäckstrand Camping, the sea is your nearest neighbour, and every pitch enjoys magnificent sea views. It's just a short walk down to the shallow, white sandy beach or what about a dip from the jetty?
Two service buildings make for a more comfortable camping experience. The older service building has youth hostel rooms, a kitchen, shower and WCs. The newer building is a pavilion with WCs and separate shower rooms.


Accommodation
Barsebäckstrands Camping offers a choice of camping pitches (with or without electricity), motorhome/caravan pitches (with electricity) and tent pitches (with or without electricity) as well as cottages and youth hostel rooms. Pets are welcome in two of the cottages.
Things to see and do
Close to the campsite is Barsebäcks Golf & Country Club. The area boasts a rich history with many ancient remains from the Viking period to explore. Löddeköpinge is also home to the VikingaTider open-air archaeological museum of finds from that period.
Facilities
Caravan
Motorhome
Zelt
Cottage
Room
Pitches 80-100 sq. m
Pitches 100-120 sq. m
Pitches with electricity
Separate pitches for motorhomes
Säsongtomter
Accommodation
Caravan
Separate pitches for motorhomes
Motorhome
Pitches 80-100 sq. m
Pitches 100-120 sq. m
Room
Säsongtomter
Pitches with electricity
Cottage
Zelt
Service building
Latrine emptying for movable tanks
Dryer
Latrine emptying, automatic
Disabled shower
Kitchen
Outdoor washing up
Oven
Separate shower cubicles
Washing machine
Disabled WC
Service
Breakfast
Café
Café
Kiosk
Midsummer celebrations
Dogs are welcome
Swimming
Swimming jetty
Dog swimming
Sea swimming
Sandy beach
Nearby
Bowling
Culture-historical place
Angling
Golf course
Nature reserve
Size
Number of pitches: 121
Number of long term pitches: 35
Number of cabins: 5
Contact
Barsebäckstrand Camping
Kustvägen 125
246 57, Barsebäck
Open from: 2023-04-06
Open to: 2023-10-31