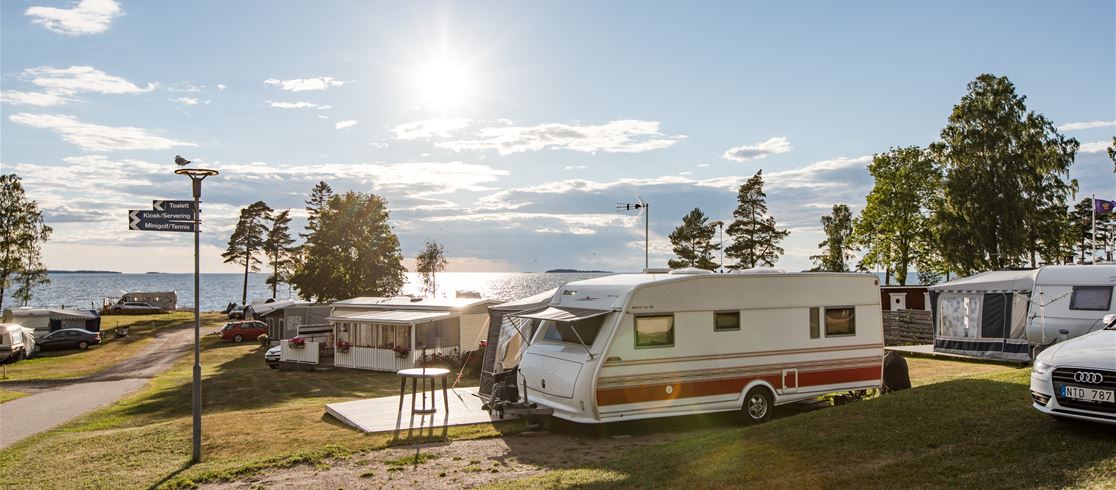 Askeviks Camping & Stugor
Sjötorp
Family
Free Wi-Fi
Motorhome
Outdoor
Sea views
Forest
After beach
Askeviks Camping & Stugor, Sjötorp
With stunning views of Lake Vänern, wonderful sandy beach and a guest harbor are Askeviks Camping & Stugor located, just 7 km north of Sjötorp. Cottages and cabins with 2-5 beds. Fully licensed restaurant.
Camping site at Lake Vänern, 7 kilometers from the Göta canal, Sjötorp, about 26 kilometers north of Mariestad.

Enjoy easy access to sandy beach, a vast view, beautiful sunsets. Fill your day with activities and adventure or experience the calm and lazy days in the stillness.

Cabins with 2, 4 & 5 beds.

In the area there is a common service building with WC, showers, electric sauna, washing machine, dryer, dining room, stove, sink and microwave oven.

There are also fully licensed restaurant, a wood fired sauna at the beach and various sports activities, playground and barbecue area.

Swimming and fishing in Lake Vänern.

For those who are looking for fishing in deeper waters there is a boat ramp in the guest harbour.
We offer cabins with room for 2-5 people. The cottages are located beachfront by Lake Vänern and have access to a sauna. Furnished patios. Restaurant and kiosk on site.
Facilities
Motorhome
Zelt
Cottage
Luxury caravan
Quick Stop
Pitches 80-100 sq. m
Pitches 100-120 sq. m
Adapted motorhome pitches
Pitches with water connection
Pitches with electricity
Separate pitches for motorhomes
Säsongtomter
Accommodation
Separate pitches for motorhomes
Luxury caravan
Pitches with water connection
Motorhome
Pitches 80-100 sq. m
Pitches 100-120 sq. m
Adapted motorhome pitches
Quick Stop
Säsongtomter
Pitches with electricity
Cottage
Zelt
Service building
Latrine emptying for movable tanks
Family bathroom
Latrine emptying, automatic
Fridge
Dog shower
Disabled shower
Meeting rooms
Microwave
Separate shower cubicles
Washing machine
Disabled WC
Service
BBQ places
Café
Guest harbour
Midsummer celebrations
Dogs are welcome
Restaurant
Defibrillator
Wi-Fi 75-100 per cent coverage
Waste sorting
Activities
Table tennis
Boule
Playground
Bike trail
Birdwatching
Riding
Angling
Padel
Children's playroom
Skates
Trampoline
Tennis
Swimming
Swimming jetty
Children's pool
Dog swimming
Lake swimming
Sandy beach
Sauna
Size
Number of pitches: 105
Number of long term pitches: 43
Number of cabins: 11
Contact
Askeviks Camping & Stugor
Sjötorp Askevik 62
54266, Sjötorp
Open from: 2023-01-01
Open to: 2023-12-31