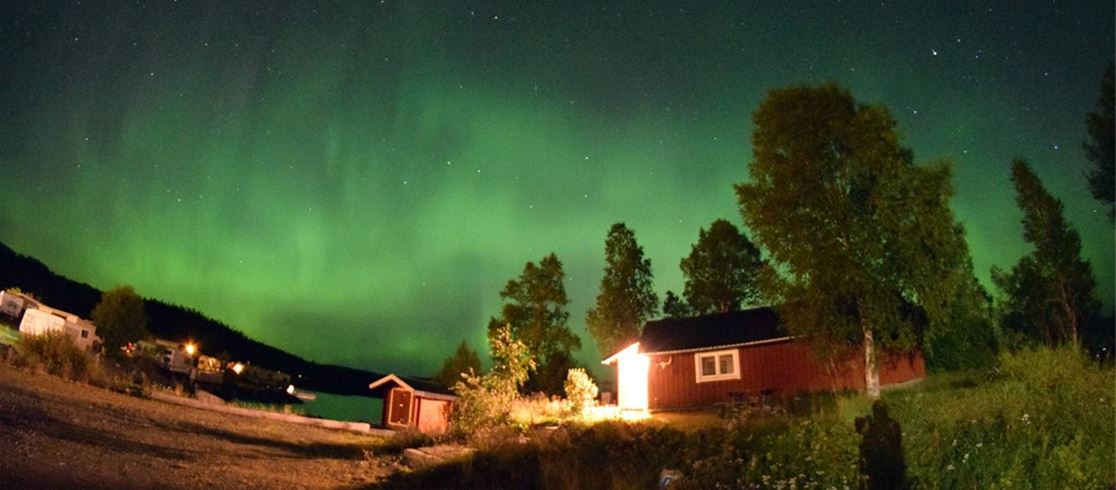 Kallsedets Fjällcenter
JÄRPEN
Family
Northern lights location
Outdoor
Fishing
Sea views
Welcome to Kallsedets Fjällcenter!
Situated close to Panoramavägen – the panoramic road – and nestled among mountains, between watercourses and lakes, is Kallsedets Fjällcenter, with a campsite, shop, filling station and mountain café. With the wilderness on your doorstep and views of Lake Juvuln, it's the perfect location.
Welcome to Kallsedets Mountain Center (Fjällcenter). You will find our mountain centre on the slopes of Skäckerfjällen nature reserve, between the lakes of Kallsjön and Juvuln. If you fancy either a summer or wintertime activity holiday or a tranquil relaxing holiday this is exactly what you will find at Kallsedet! We have a fully equipped campsite that will cater for all your needs to make your holiday an wonderful experience. On our site you will find 25 pitches for tents, caravans and static caravans, plus if you're not interested in camping outdoors you can stay in our very well equipped cabins or hostel.On our site we also a small mountain cafe. Nearby our camping your will find Vaernes airport (Trondheim) (2.5hrs away). Kallsedet is a small and welcome family campsite....We aim to make your stay as pleasant as possible, please ask us for any information and keep to the camp rules to ensure that everybody else's stay is as pleasant as possible!We look forward to seeing you!Jörgen & MariskaCottagesStay in a fantastic mountain setting with the lake on your doorstep and the wilderness of the Skäckerfjällen Nature Reserve just around the corner.The cottages are available to hire all year round, and sleep 2, 4 or 6 people. Check-in is 3–9 p.m and check-out is 10 a.m. Guests must be at least 25 years old to book and check in.We offer several different types of cottage:– our 2-bed cottage has 1 bedroom with 2 single beds– our 4-bed cottages have 1 bedroom with 2 bunk beds– our 6-bed cottage has 1 bedroom with 2 single beds, 1 bedroom with 1 bunk bed, and 1 double sofa bed.The price includes beds made up on arrival and cleaning.All the cottages are fully equipped and have their own shower/WC/washbasin and kitchen with t/t cooker/oven, microwave and fridge.Youth hostelWe offer a range of different-sized hostel rooms, from 2-bed rooms to family rooms. There are fresh and clean showers and WCs close to the rooms, as well as a large guest kitchen with cooker, oven, fridge, freezer, microwave oven, etc. Large sitting room with TV. A drying room and washing machine are also available. Close to our self-catering accommodation you'll find a Sami tent for BBQs, where you can cook outdoors in the evenings after a packed day of activities!We have special rooms and one cottage for guests with pets. We also offer highchairs and cots for the little ones. You're guaranteed your own room, so you'll never have to share with someone you don't know. And all of our rooms are non-smoking! If more than 8 of you are coming together, contact us to book as a group for an even better price.
Facilities
Caravan
Motorhome
Zelt
Cottage
Youth hostel
Room
Pitches 120- sq. m
Pitches with electricity
Accommodation
Caravan
Motorhome
Pitches 120- sq. m
Room
Pitches with electricity
Cottage
Zelt
Youth hostel
Service building
Latrine emptying for movable tanks
Dryer
Family bathroom
Freezer
Fridge
Microwave
Baby changing room
Washing machine
Service
Freshly baked bread
BBQ places
Boat slip
Café
Kiosk
Cafeteria
Dogs are welcome
Restaurant
Convenience shop
Defibrillator
WiFi
Waste sorting
Activities
Bike trail
Riding
Angling
Cross-country skiing
Dog teams
Size
Number of pitches: 25
Number of long term pitches: 0
Number of cabins: 4
Contact
Kallsedets Fjällcenter
Kallsedet 820
837 93, JÄRPEN
Open from: 2023-06-01
Open to: 2023-09-30