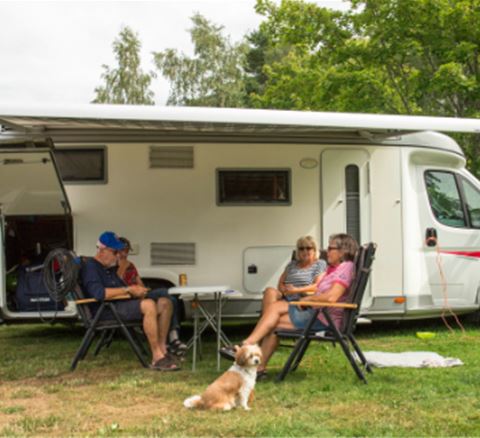 Camping Maplelake Adventure
TIDAHOLM
Family
Free Wi-Fi
Outdoor
Close to town/city
Adventure
Scenic town camping in a beautiful location by River Tidan.
The campsite is centrally situated in Tidaholm where you can enjoy small-town life and the beautiful surroundings along River Tidan.
The campsite is a stone's throw from Tidaholm town centre and a few metres from the winding River Tidan.

The campsite is small but has a big heart that is passionate about you having a good experience.

Come as you are, enjoy the tranquillity and your comfortable caravan or motorhome, go for a walk along River Tidan and eat at one of the many nice restaurants, or maybe enjoy a tasty coffee at a nice café in the town centre.

If you would like more adventure, Camping Maplelake Adventure connects the wilderness with town life. Rent a kayak or cook with the campsite's Michelin Star chef. Try sleeping in the campsite's leafy grove in a tree hammock or stay in a luxury glamping tent with a double bed, rugs, wood-burning stove for chilly evenings, and romantic atmosphere. Hang out outside with some snacks in a sun lounger and socialise with your travel partner. Extra sleeping places for children can also be added.

There are 29 pitches for caravans, motorhomes and tents, and two glamping tents with wood-burning stoves.

Lots of activities on site and nearby.
At the campsite you can rent a kayak or rowing boat, and cook wilderness food with a Michelin Star chef.

Amenities:
- Service building with shower, toilet, cooking facilities, washing machine and latrine emptying
- Reception staffed for much of the day
- Option to order breakfast basket
- Proximity to grocery shop, as the campsite is next door to Matöppet
- Help to find a dog sitter
- Play and fun activities for children
- Wilderness cooking with Michelin Star chef Abiatar
- Kayaking
- Rowing boat
- Hiking

The town of Tidaholm
For those who want to shop, there is a range of independent clothing and interior design shops.
In the centre there are restaurants to suit everyone's wallet – from pizza to à la carte. Or why not enjoy a coffee at one of the town's patisseries?

Welcome to Tidaholm!
Facilities
Caravan
Motorhome
Zelt
Glamping
Pitches with electricity
Accommodation
Caravan
Glamping
Motorhome
Pitches with electricity
Zelt
Service building
Latrine emptying for movable tanks
Disabled shower
Microwave
Baby changing room
Oven
Washing machine
Disabled WC
Service
Leader-led activities
Freshly baked bread
BBQ places
Kids' club
Automatic check in
Camps and groups
Cafeteria
Midsummer celebrations
Dogs are welcome
Convenience shop
Defibrillator
Activities
Playground
Bike trail
Football pitch
Kayak
Padel
Mini-golf
Motionslopp
Tennis
Size
Number of pitches: 29
Number of long term pitches: 0
Number of cabins: 0
Contact
Camping Maplelake Adventure
Södra Ringvägen 25
522 30, TIDAHOLM
Open from: 2023-04-14
Open to: 2023-10-31